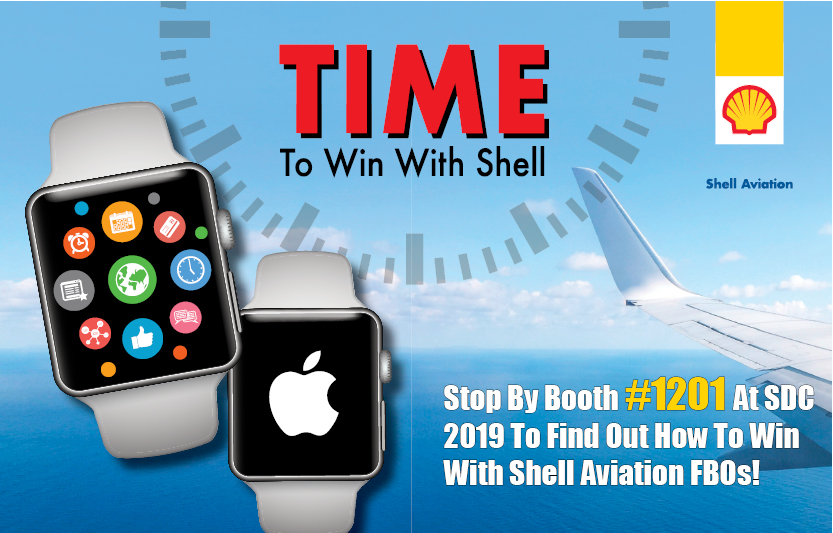 Over 2,900 industry professionals will be meeting in San Antonio, TX, January 29-31, for the 2019 Schedulers & Dispatchers Conference. This premier professional development event offers top-level education sessions, peer-to-peer networking with industry professionals, and an exhibit hall with hundreds of vendors and suppliers featuring products and services that will optimize your work.  Be sure to visit Shell Aviation in booth #1201 for your chance to win one of six Series 4 Apple Watches and other great prizes!
Visit these FBOs in Shell Row:
Advanced Air Support
Advanced Aviation
Air 7
APP Jet Center
B. Coleman Aviation
CB SkyShare
Charlotte-Monroe Executive 
Emerson Aviation
Global Aviation
Gwinnett Aero LLC 
Indy Jet
Jacksonville JetPort
Leading Edge Aviation
Lynx FBO
Maverick Air Center
McClellan Jet Services
Meridian Teterboro
Mid Delta Aviation
North Atlantic Air, Inc.
Port of South Louisiana
Seven Rivers Aviation
Shell Aviation Canada
Stein's Aircraft Services
Thunderbird Aviation
Upper Cumberland Regional Airport
Waypoint Aviation
Wilson Air Center
We look forward to seeing you in San Antonio!
Titan Aviation Fuels was founded in 1975 and is the exclusive distributor of Shell branded aviation fuels in the United States. Titan Aviation Fuels has aligned itself strategically with Shell to bring its FBO customers secure supply, FBO support programs, and quality Shell Fuels. To learn more visit www.titanfuels.aero or call 1-800-334-5732.