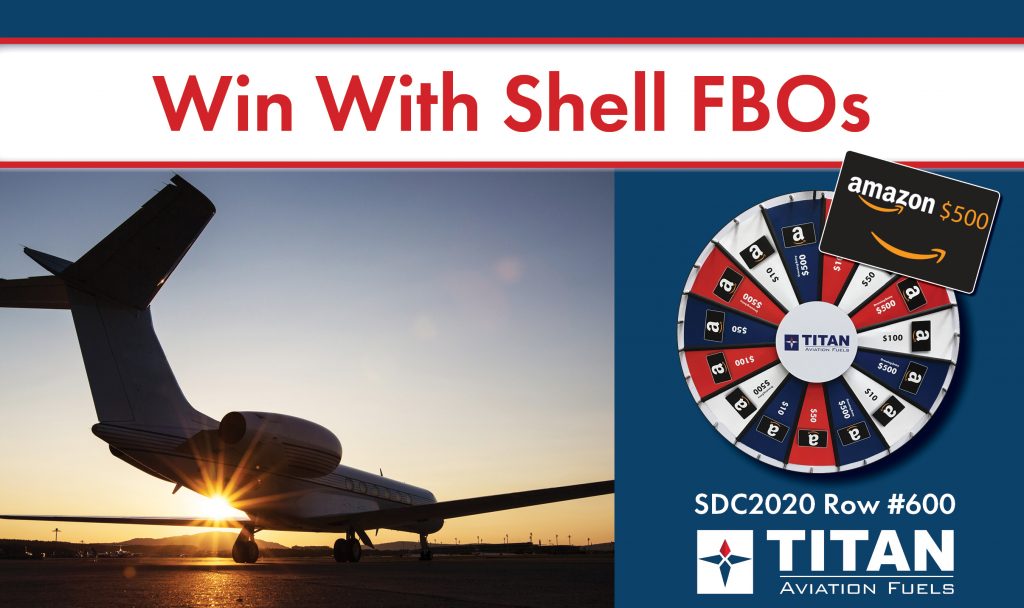 Over 2,900 industry professionals will be meeting in Charlotte, NC, March 10-12, for the 2020 Schedulers & Dispatchers Conference.  Be sure to visit Titan Aviation Fuels and Shell FBOs in row #600 for your chance to win
$10, $50 & $100 Amazon Gift Cards!  Plus drawings for (4) $500 Gift Cards!

Visit these Shell FBOs:
Advanced Aviation
Aero Management Group
Air Bound Aviation
APP Jet Centers
B. Coleman Aviation
Basler Flight Service
Baton Rouge Jet Center 
CB SkyShare
Charlotte-Monroe Executive Airport
Collier County Airport Authority
Cornerstone Air Center, LLC
Emerson Aviation
Global Aviation
Jacksonville JetPort
Jag Aviation
Jet Center Los Angeles
Leading Edge Jet Center
Lynx FBO
Maverick Air Center
McClellan Jet Services
Meridian Teterboro
Mesquite Metro Airport
Mid Delta Aviation
Modern Aviation
Music City Executive
Port of South Louisiana Executive Regional Airport
Seven Rivers Aviation
Shelbyville Municipal Airport
Shell Aviation Canada
Statesville Regional Airport
Stein's Aircraft Services
Thunderbird Aviation
Waypoint Aviation
Wilson Air Center
Winchester Aviation
We look forward to seeing you in Charlotte!