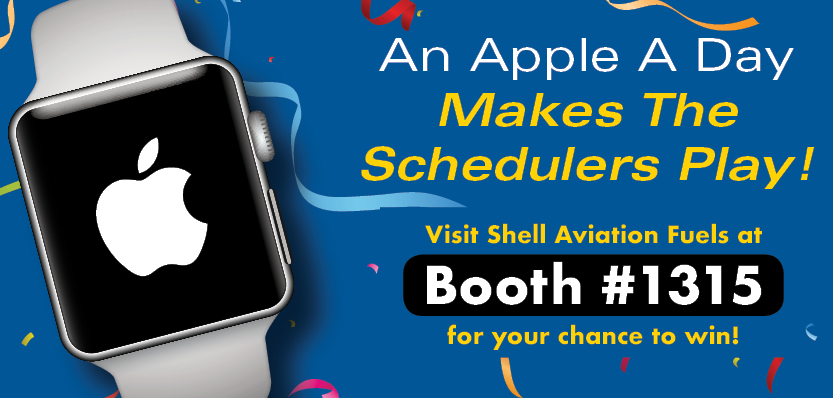 Join more than 2,900 industry professionals at the 2018 NBAA Schedulers & Dispatchers Conference Feburay 6-9 in Long Beach, CA.  This conference is the  premier professional development event for anyone with responsibility for scheduling and/or dispatching business aircraft. Be sure to visit us in Shell Row for your chance to win one of eight Apple Watches and other great prizes.
Visit these Shell Branded FBOs in Shell Row:
Advanced Air Support
Advanced Aviation
Air 7
APP Jet Center
B. Coleman Aviation
Baton Rouge Jet Center
Beach Aviation Services
CB Aviation, Inc.
Coos Aviation
Cornerstone Air Center
Emerson Aviation
Epps Aviation
Global Aviation
Global Select at Sugar Land
Gulf Air Center
Harrison Aviation
Hawthorne Global Aviation Services
Ideal Aviation
Indy Jet
Jacksonville JetPort
Lake Cumberland – Somerset Pulaski
Leading Edge Aviation
Maverick Air Center
McClellan Jet Services
Meridian Teterboro
Port City Air
Pro Jet Aviation
Providence Jet Center
Seven Rivers Aviation
Shell Aviation Canada
Stein's Aircraft Services
Thunderbird Aviation
Waypoint Aviation
Wilson Air Center
We look forward to seeing you in Long Beach!
Eastern Aviation Fuels was founded in 1975 and is the exclusive distributor of Shell branded aviation fuels in the United States. Eastern Aviation Fuels has aligned itself strategically with Shell to bring its FBO customers secure supply, FBO support programs, and quality Shell Fuels. To learn more visit www.titanfuels.aero or call 1-800-334-5732.