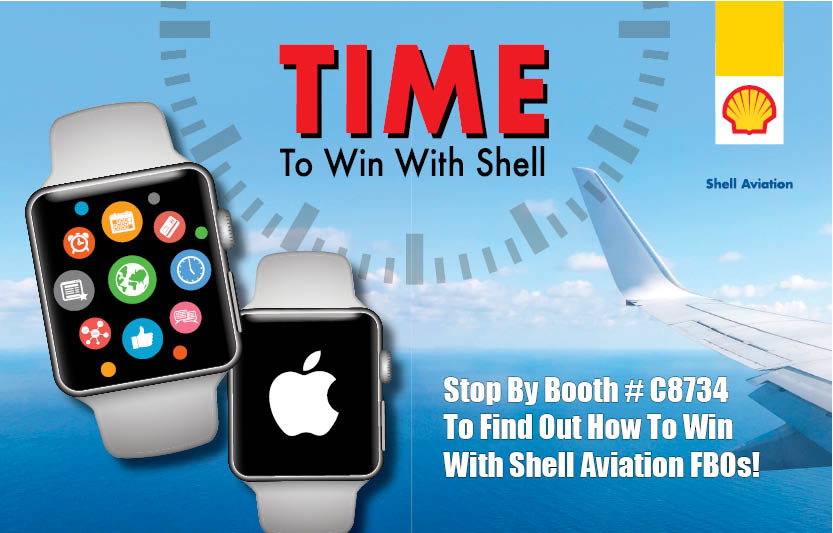 Join over 25,000 industry professionals for the most important three days of business aviation. Ranked as the third largest trade show in the United States, the NBAA Business Aviation Convention & Exhibition (NBAA-BACE) will be held Oct. 22-24, 2019, in Las Vegas. Be sure to stop by the Shell Aviation booth #C8734 for your chance to win one of 20 Apple Watches and meet our exhibitors. Learn more about NBAA-BACE here.
Visit these Shell Branded FBOs  and partners in Booth #C8734
Advanced Aviation
Aerovon Risk Advisors
Air 7, LLC
B. Coleman Aviation
Contour Flight Support
Cornerstone Air Center
Dallas Jet
Emerson Aviation
Epps Aviation
First Coast Aviation
flyAdvanced
Global Aviation
Jacksonville JetPort
JAG Aviation
Jet Air Inc.
Maverick Air Center
McClellan Jet Services
Modern Aviation
National Jets Inc
Port City Air
Seven Rivers Aviation
Sunwest Aviation (Calgary)
Thunderbird Aviation
Waypoint Aviation
Wilson Air Center
We look forward to seeing you in Vegas!
Titan Aviation Fuels is one of the largest distributors of aviation fuel products in the United States and has aligned itself with Shell Aviation Fuels.  The company is dedicated to delivering its FBO customers secure supply, a professional image, support programs and clean, high-quality fuels. The company also services airlines, corporate flight departments and the aerial applicator segments of the aviation industry.  To learn more about Titan Aviation Fuels and the services offered, please visit www.titanfuels.aero or call 800-334-5732